Advantages of Fleet Energy Services
Realtime monitoring
Detailed, realtime overview of battery state of charge.
Accurate charging planning
Makes sure all your machines are charged and ready for the next day of work.
Deep insight in energy consumption
Forecast the total energy need for a complete project.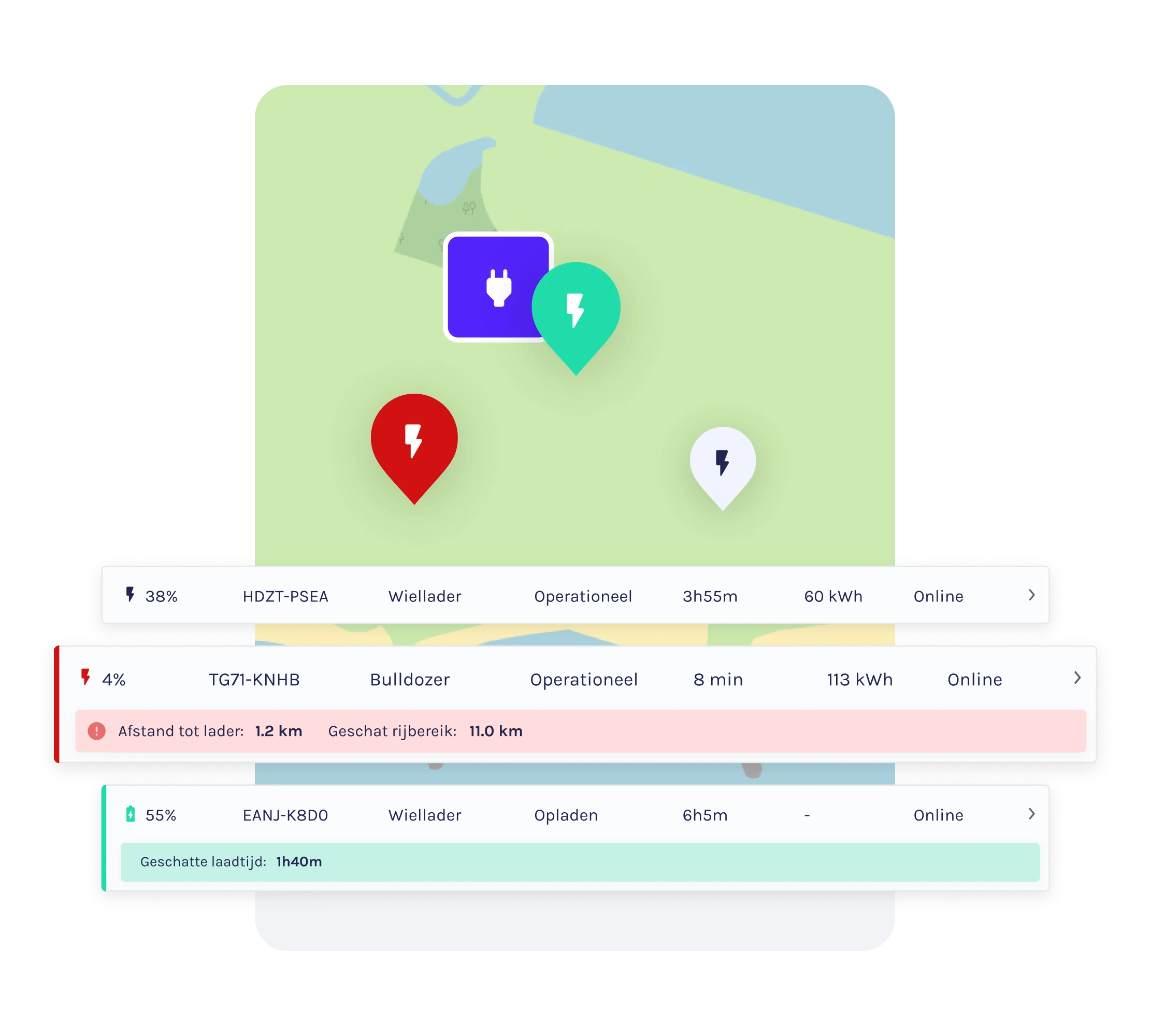 What is Fleet Energy Services?
Fleet Energy Services (FES) is the platform for management and planning of electric construction sites. FES gives insight in the realtime state of machines and charging infrastructure and supports planning of work. The charging strategies and feedback on charging ensure that machines are always charged when needed. The planning of work is simplified by insights in expected energy and charging demand of activities and projects.
Frequently asked questions
What differentiates FES from other fleet management platforms?
FES is designed with an electric construction site in mind. The platform is a smart combination of a fleet management system with an energy management system, with a core focus on energy management, charging scheduling, and sustainability.
How can FES help us with planning work on an electric construction site?
FES gathers and analyses detailed usage data of you machines. Using this data, usage profiles are created based on the type of project, the project fase and particularly the specific use of a machine. This information can also be gathered from currently used diesel machines and used to predict power consumption of a electric version.
I am a construction machinery OEM, how can FES help me?
The FES hardware can be simply integrated in your design. This provides the machine instantly with various telematics functions. You can give your customers direct access to the information that FES provides, or use it to improve your own products or services. Usage profiles of multiple customers give insight in how customers use your machines. This allows for development of new machines or upgrades that perfectly meet your customers' needs. Remote diagnostics and predictive maintenance help reduce machine downtime.
My machine is already connected to the cloud, can it be connected to FES?
Almost all machines can be connected to FES through our hardware. Modern machines from several manufacturers can be integrated without additional hardware.
We also have diesel machines in our fleet. Can these be added to the platform?
Yes, that is possible. FES can monitor and track diesel machines effortlessly. Furthermore, it can give a look in the future and determine the electric energy that would be needed if the machine is electrified.
Is there also an app?
FES is accessible through a browser. Therefore, FES can be used on all devices without any additional installation required.
How does FES contribute to a more sustainable construction industry?
By having detailed insight into the actual energy needs and future work activities the charging of the fleet can be planned optimally. As a result, the construction site requires less battery capacity, which saves raw material and reduces cost.
I have swappable battery packs, can I also monitor those when they are not in the machine?
That depends on the supplier, if the battery pack already has remote access and an open API we can integrate it. If not, we are open for collaboration with battery suppliers to make their battery smart.